Will a PhD improve my earning potential?
7/18/2018 The Pay Index
Could a Bachelor's, Master's or a PhD improve how much I can earn?
In the latest article from The Pay Index, the leading online source for executive pay comparison, we explore how education levels impact executive compensation.
When researching this article, we found a number of references and studies to show that qualifications do improve earning capacity.
However, when examining the sources in more detail the studies were frequently dated, too geographically specific or did not have statistical reference points to substantiate their claims.
Thus, we decided to examine the 6,000 senior executive datapoints within The Pay Index to provide a current perspective on how an individual's education level impacts compensation.
The Pay Index findings – Global Average Compensation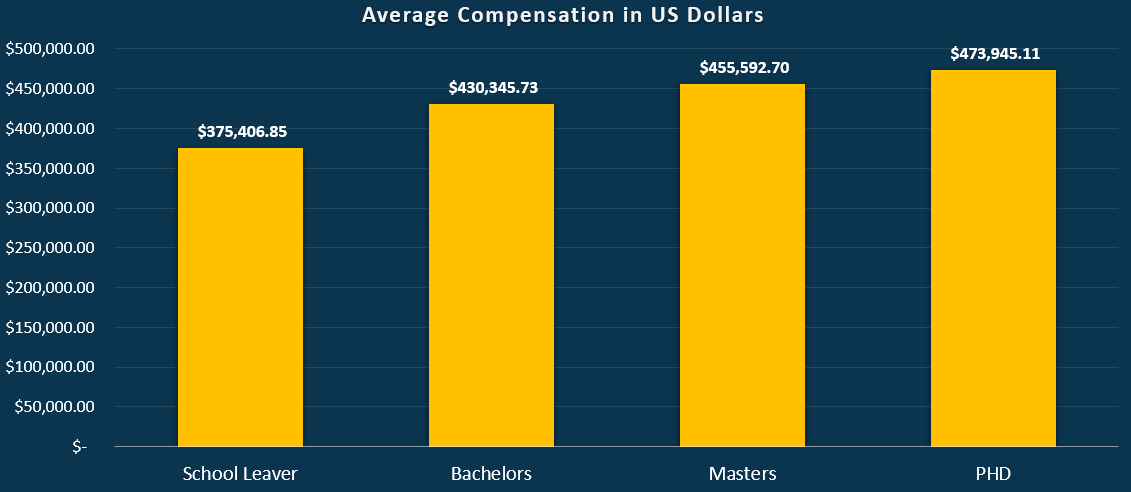 A snapshot of the current global data on The Pay Index shows that the average compensation across the entire database of senior executives is $442,748, of whom almost 90% possess 16 or more years industry experience.
When relating average pay against education, we found that those who were educated to bachelor's degree level (46% of the database) earnt on average 3% less than the overall average compensation.
The next highest education classification, which accounted for 44% of the database, were those who possessed a master's degree. These individuals received a compensation package that was 3% above the average for the database.
The remaining 10% of the database, of which 4% possessed a PhD (or equivalent), achieved a premium of 7.5% when compared to the average compensation, whilst the final 6% who were classified as School Leavers returned a compensation package that was only 85% of the average for their peer group.
Are there pronounced differences between the US v UK?
Specifically examining these two geographical regions within The Pay Index, which account for almost 80% of the overall database, we wanted to see if there were any notable differences in the relationship between education level and earnings.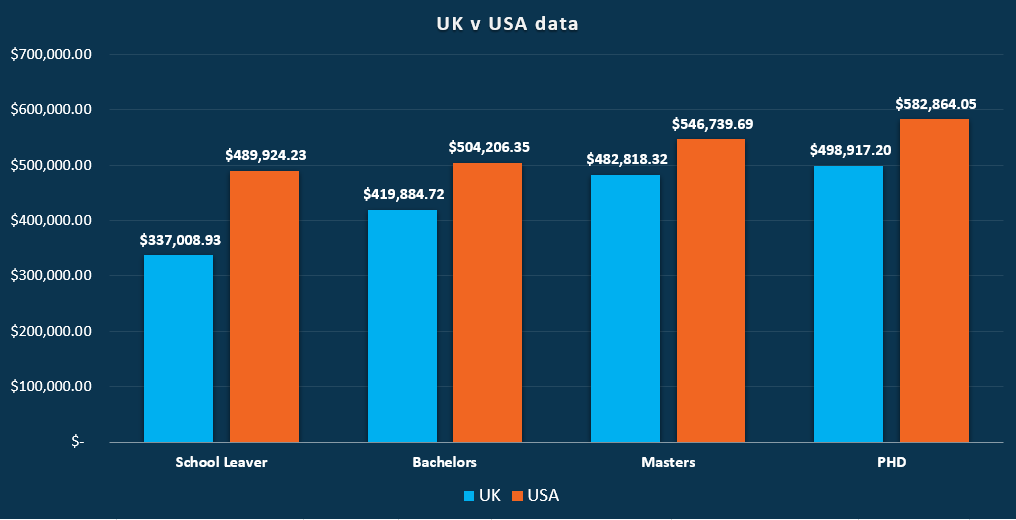 One of the most notable observations is from the UK region, where not progressing beyond being a 'School Leaver' resulted in 24% lower compensation package when compared to those with a Bachelor's degree.
Yet, in the USA, there is almost no negative impact at all when comparing the same two education levels, with school leavers only earning 3% less than those with a Bachelor's degree.
Looking at the both regions, it appears that gaining a Master's degree offers the largest jump in compensation, with average gains of between $42K - $63K per year.
Do the improved financial returns outweigh the cost of the education?
With the difference in annual compensation being as much as $162K per year between 'School Leavers' and those with a 'PhD' (based on the data analysed) it would appear that investing in further education clearly provides a demonstrable ROI.
Additional studies from the USA complemented this viewpoint by showing that over the course of an entire career individuals can expect to earn between US$2 - $3 million more if they possess at least a Bachelor's level degree, with the figures increasing further as individuals gain more qualifications.
Importantly, when cross-referencing the compensation figures against the cost of education, which can frequently amount to $200K when combining the costs incurred from studying through from an undergraduate degree to a PhD (see 'references and sources of further information' below for more details), the data would still indicate that investing in education does provide individuals with a clear ROI, not just at the senior executive level, but across the broader employment landscape.
Summary
From the data analysed in The Pay Index, education clearly does pay. Individuals who continue to invest within their education can expect to earn proportionately more than their peers who do not possess the same level of qualification.
References and sources of further information:
According to a study from the US Census Bureau, using data from the most recent comprehensive national census, adults with PhD degrees earn 7% to 33% more than those with just master's degrees.
In the UK, An undergraduate degree is £9200/year of study. The prices of Masters and PhDs can vary from £2-3K to £10k as they are set up by the individual institution. The Kingston MSc in HR Management for example is £9350.
In Australia, the average fees for a Doctoral degree – AU$14,000 (US$11,200) to $37,000 (US$29,600).
London Business School's 18-month MBA program costs almost GBP£50,000 (around USD$80,000) in course fees alone, though the school claims an average salary of almost three times that after graduation.
The College Pay Off: Link
US Student debt: Link
US education costs: Moderate college budget for an in-state public college for the 2017–2018 academic year averaged $25,290. A moderate budget at a private college averaged $50,900. The average cost of master's degree for students is between $30,000 and $120,000. At that time, the total average cost for research-based doctoral programs was $36,600. Professional doctoral degrees averaged $48,900 the same year.
Data breakdown:
All figures in US Dollars
All data is less than 12 months old
Overall average for entire database ($443K)
Data taken from over 6,000 senior executives
50% of the database work within companies of 10,000+
90% of the database possess a Bachelors and / or Masters Degree
86% of the database possess 16 or more years in industry
184 different cities
54 different countries